Trend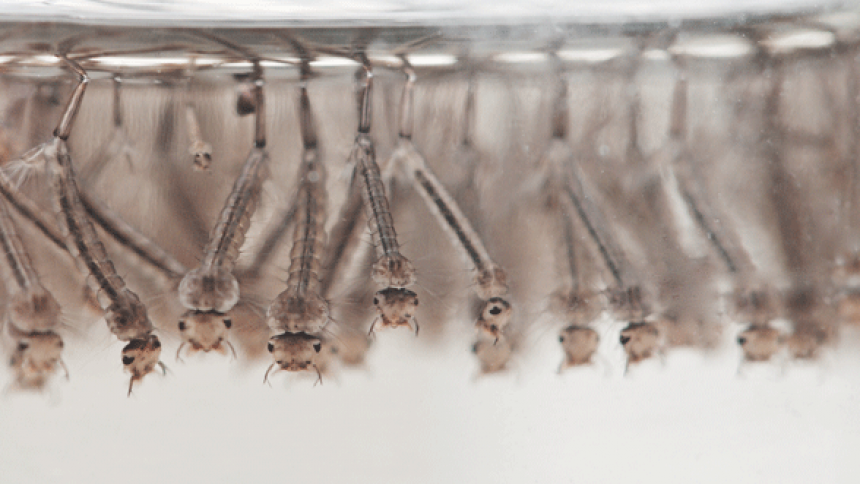 World Health Assembly approves comprehensive global approach against vector-borne diseases
02 June 2017 | Geneva – Delegates attending the Seventieth World Health Assembly (WHA) adopted a resolution on Global Vector Control Response (GVCR) that aims to prevent, detect, report and respond to outbreaks of vector-borne diseases worldwide through an integrated, comprehensive approach.
Entomologist, using the Nasci aspirator to collect mosquitoes for testing ©CDC
Global vector control response 2017 – 2030 urges Member States to develop or adapt existing national vector control strategies and operational plans to align them to the integrated strategic approach.
"This resolution clearly shows the need to strengthen vector control as a fundamental approach to preventing diseases based on locally adaptable measures" said Dr Dirk Engels, Director of the Department of Control of Neglected Tropical Diseases. "We are committed to working with countries to refine and implement the plans that include active engagement of communities and more research and innovation."
GVCR will support technical capacity, strengthen monitoring and surveillance systems, improve infrastructure, and above all, tackle multiple vectors and diseases cost–effectively and in an integrated manner across many sectors beyond health – including environment, urban planning and housing, education and information sharing – by prioritizing actions under four foundational pillars:
strengthened collaboration with non-health sectors, along with improved coordination of activities within the health sector;

enhanced surveillance of vectors and better monitoring of vector control implementation to support the data-driven planning and implementation of vector control;

scale up and integration of vector control tools and approaches appropriate to the epidemiological and entomological contexts; and

engagement and mobilization of communities to implement vector control actions through appropriate participatory community-based approaches.
The success of response to the growing threat of vector-borne diseases will depend on strong country leadership, enhanced advocacy, resource mobilization and coordination among partners, as well as appropriate regulatory, policy and normative support.
"Vector surveillance and control remains the most important tool to preventing outbreaks" said Dr Raman Velayudhan, Coordinator of the Vector and Ecology Management unit at WHO. "Integrated interventions will bolster the development of local capacity to implement sustained, cost–effective interventions and capacity at the country community level".
Vector-borne diseases
Vector-borne diseases account for an estimated 17% of the global burden of communicable diseases and claim more than 700 000 lives every year. The burden is highest in tropical and subtropical areas where the commonest vector-borne disease – malaria – takes its highest toll. Others such as Lyme disease and tick-borne encephalitis are spreading rapidly in temperate regions.
At least four out of every five people worldwide are at risk of contracting viruses or parasites transmitted by mosquitoes, flies, ticks, fleas and other vectors. Together, vector-borne diseases cause more than 1 million deaths each year. Many who survive are left permanently disabled or disfigured.
The risk of infection is particularly high in towns and cities where vectors proliferate and where contact with human beings is high. Disease burden is often disproportionately high in poorer populations, where malnourished people with weakened immunity are especially susceptible.
Social, demographic and environmental factors have altered the transmission patterns of the causative pathogens, resulting in intensified transmission, geographical spread and re-emergence or extension of transmission seasons. Unplanned urbanization and the lack of a reliable piped water supply or solid waste management can render large populations in towns and cities at risk of viral diseases spread by mosquitoes.
But despite these challenges, most vector-borne diseases can be prevented through vector control, if it is planned and implemented well and sustained. A comprehensive approach to vector control can accelerate progress towards the achievement of disease-specific national and global goals and contribute to the attainment of the Sustainable Development Goals.
The road to a global response
In May 2016, the WHO Director-General Dr Margaret Chan conveyed serious concerns to the Sixty-ninth World Health Assembly about the poor state of global vector control, and urged an integrated approach to thwart the increasing threat of diseases spread by vectors.
In June 2016, WHO launched a fast-tracked effort to develop a global plan to boost vector control capacity worldwide through a broad consultation with Member States and member of the global health community.
In January 2017, the 140th session of the Executive Board, having reviewed the draft response and acknowledging the strong support for it by Member States, requested the WHO Secretariat, in collaboration with interested Member States, to prepare a resolution for consideration by all Member States during the Seventieth World Health Assembly.
Neglected vector-borne tropical diseases
Although Zika virus disease is not listed in WHO's current portfolio of neglected tropical diseases, it is spread by Aedes aegypti, the same mosquito vector that transmits dengue and chikungunya. Its recent spread (and also outbreaks of yellow fever in Africa) and surges in the numbers of dengue and chikungunya cases have highlighted the global threat posed by vector-borne diseases.
Today, more than 80% of the world's population is at risk of vector-borne diseases such as dengue, chikungunya and lymphatic filariasis.
Other diseases including human onchocerciasis, the leishmaniases and human African trypanosomiasis (sleeping sickness) are spread by flies. Bugs or ticks transmit Chagas disease, whereas water fleas transmit dracunculiasis (guinea-worm disease) and freshwater snails release larval parasites that can cause schistosomiasis.
Together, the major vector-borne diseases kill more than 700 000 people each year, with populations in poverty-stricken tropical and subtropical areas at highest risk. An increase in international travel and trade, various agricultural practices and environmental changes as well as other factors such as conflict and population displacement are creating favourable conditions for the spread of vectors worldwide, exposing entire populations at risk.